In the spirit of "Opinion on Deepening the Reform of Diversified Dispute Settlement Mechanism of Court System" proposed by Chinese Supreme Court, Nanjing Maritime Court initiated the public selection procedure for the Specially-Invited Mediation Institutes, Specially-Invited Mediators, and Full-Time Mediators on 28 December 2021. After rigorous qualification reviews and public announcement period, Nanjing Maritime Court published on its website the <Name List of Specially-Invited Mediators and Mediation Institutes> on 5 September 2022. According to the name list and with endorsement of the "Triennial Appointment Letter for Specially-Invited Mediator", our Capt. Tony Huang was officially selected as one of the 48 registered Specially-Invited Mediators of Nanjing Maritime Court, valid from July 2022 to June 2025.
​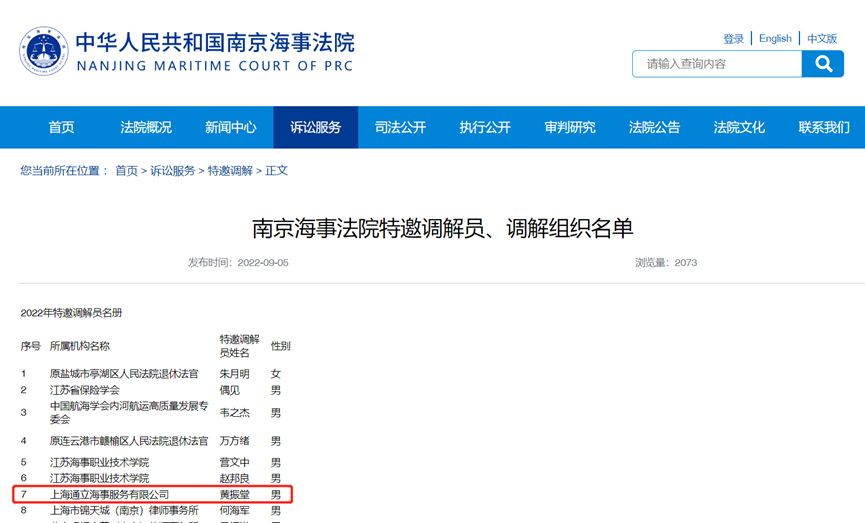 <Name List of Specially-Invited Mediators and Mediation Institutes> published on the website of Nanjing Maritime Court
As a vital link between the litigation and non-litigation approach of dispute resolution, the specially-invited mediator mechanism helps to motivate industry experts and to make full use of their intensive experience, knowledge and insights of the professional field in the solution of disputes in an efficient and cost-effective manner. As a registered specially-invited mediator of Nanjing Maritime Court, our Capt. Tony Huang can accept the appointment of the Court or appointment of Parties concerned before or after the filing of case to mediate the conflicts and disputes in accordance with the law.
After obtaining the Specially-Invited Mediator Appointment Letter, Capt. Tony Huang indicates that: "It is a great honor and more importantly a responsibility for me to utilize my professional skills to assist the Court system in resolving the maritime affairs impartially and unbiasedly.
Letter of Appointment
Our Capt. Tony Huang has devoted himself into maritime industry for over thirty years and is the first Chinese SCR (Special Casualty Representative) recognized by SCOPIC Committee. He is qualified and experienced to act as SCR or SR (Special Representative) under LOF and SCOPIC Clause and provide exclusive salvage consultancy services. Also, Capt. Tony Huang was accredited by China Maritime Arbitration Commission (CMAC) in 2017 as one of the registered Arbitrator and Mediator. He is able, ready, and willing to accept appointment as an Arbitrator or Mediator if the parties have agreed to refer their disputes to arbitration or mediation under CMAC rules.