We are pleased to announce that T&A Marine has been listed as one of the professional forensic institutions in year 2022-2023 of Xiamen Maritime Court in their official announcement of "Xiamen Maritime Court's Biennial List of Professional Forensic Institutions for Year 2022-2023" issued on 25 March 2022.
​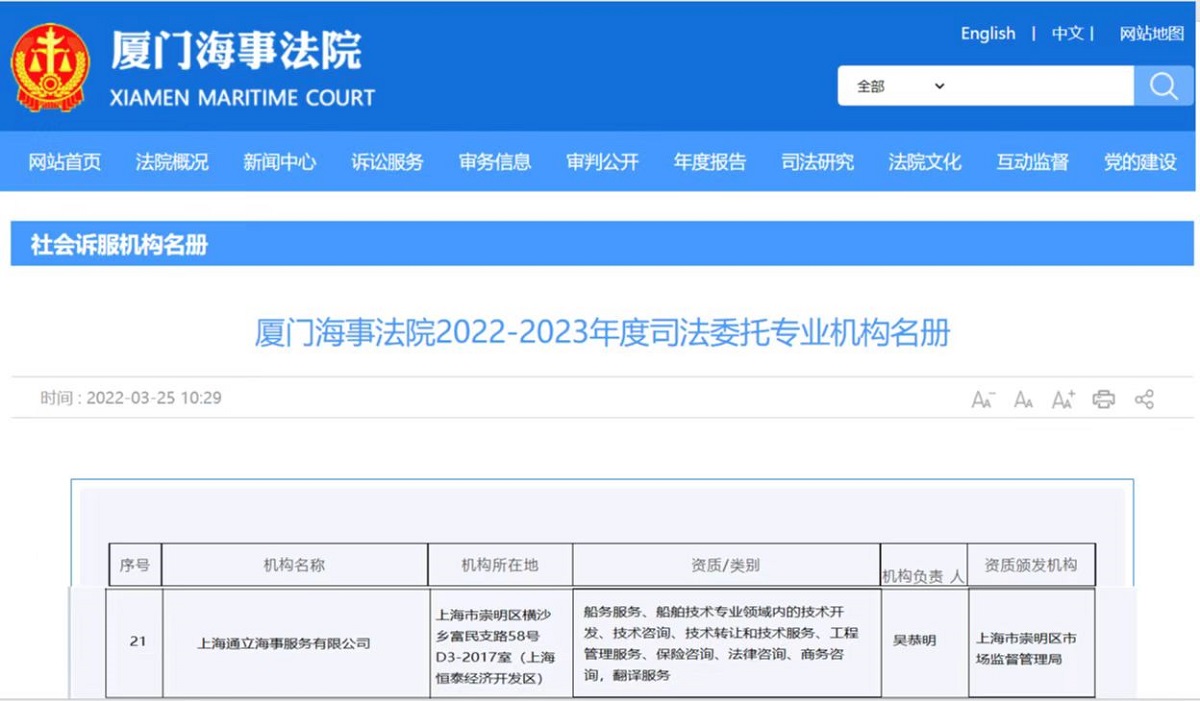 screenshot from the official website of Xiamen Maritime Court
In order to give full play of nongovernmental forensic testimony resources in the judicatory practice, and in accordance with regulations stipulated in the "Provisions of the Supreme People's Court on Externally Entrusted Forensic Appraisal, Evaluation and Auction", Xiamen Maritime Court started to establish the announcement scheme of professional forensic institutions in 2017 and published the first list in 2018. The list will be adjusted every two years. This year, Xiamen Maritime Court published its third name list of year 2022-2023 and certified our company and other 35 institutions in the panel of professional institutions specialized in forensic science.
As a specialized institution certified by Xiamen Maritime Court, we are qualified to undertake the entrustment by the Court or jointly entrustment by parties concerned on specialized issues in the cases involving maritime affairs in accordance with the Court's regulations and the requirements of legal procedure, provide independent expert opinions from a technical and professional point of view for the Court's reference. Our work experience and expertise range from the appraisal of the reasonableness of the claim items and amounts, the analysis of the cause of accident and determination of liability, to the assessment of relevant simulation experiment results and testing reports, and other matters.
T&A Marine, established in Shanghai China in 2019, is dedicated to providing clients worldwide with professional services including maritime survey and consultancy, salvage and rescue, expert witness, arbitration and mediation etc. Our consultants and surveyors have abundant professional knowledge and hands-on experience and have successfully participated in hundreds of domestic and international maritime cases, effectively safeguarding the rights and interests of our clients. Our senior consultants are often entrusted as an expert to provide independent expert opinion/report on specialized technical issues and to serve in court as an expert witness. Our Capt. Tony Huang had been appointed as an Arbitrator and Mediator of the China Maritime Arbitration Commission (CMAC) in 2017 and is qualified to undertake the entrustment of the parties concerned in accordance with the Arbitration Rules of CMAC to resolve or mediate maritime disputes in an efficient and cost-effective manner. To date, he has been entrusted by the CMAC for several times and successfully conducted the pre-litigation mediation on various maritime cases.

T&A Marine's inclusion in the list of professional forensic institutions has approved the full recognition of Xiamen Maritime Court for our professional and technical capabilities. We will live out this honor and our service philosophy of "Profession, Diligence, Integrity and Safety", treat every forensic entrustment with the principles of Science, Objectivity, Independence, and Impartiality, and strive for the improvement of forensic service quality and credibility of China!